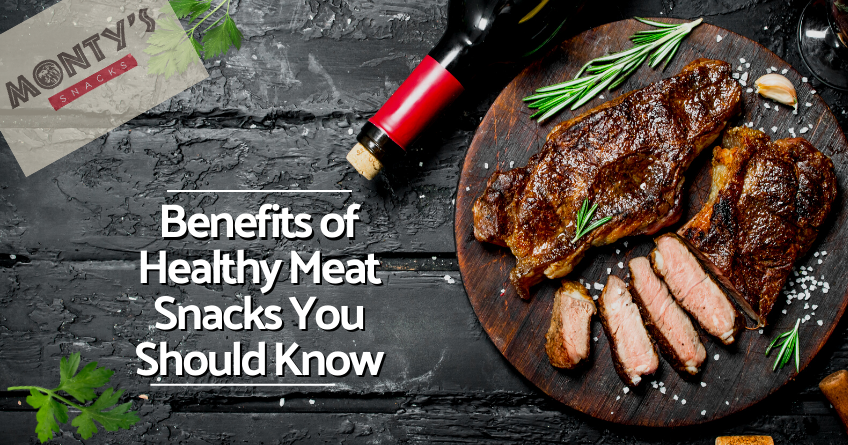 Benefits of Healthy Meat Snacks You Should Know
Eating healthy has now become a preferred way of living for millions around the globe. There are several healthy snacks available these days that you can enjoy and lead a healthy lifestyle. Healthy snacks also help in maintaining a healthy weight, reducing your risk of chronic diseases (like heart disease and cancer), and promoting your overall health. Many people tend to mistake healthy eating for vegan or vegetarian diets. However, this is not the case.
 Meat-rich diets like keto and paleo snacks also provide a wide range of health benefits. This means as a health-conscious person you can enjoy different plant and animal-based foods. However, it is essential for you to consume them in moderation and opt for fresh and nutritious meals and snacks. It can be said that pork, poultry, and even beef all are part of healthy eating and snacking.
 Now let's take a look at a few of the benefits of healthy meat snacks.
Animal-based foods are a great source of protein, and meat snacks are no exception. They are rich in essential and non-essential amino acids that are necessary for the growth and development of our bodies. People of all ages can consume healthier cuts of meat for improving their skin, bone, and muscle health.
Meat snacks are rich in the nutrient vitamin B12 which plays an essential role in boosting metabolism. Increased metabolism is related to the faster breakdown of fat cells that are stored in the body. This makes you leaner and provides a fitter physique.
High-protein foods consumed in the form of snacks help in controlling untimely cravings as they keep us feeling fuller for longer periods of time. In contrast, carbohydrate-rich foods break down easily into simple sugars that raise blood sugar levels and make a person feel hungrier within shorter amounts of time.
Help Increase Muscle Mass
Eating high quality protein and coupling it with regular exercise helps in building muscle mass. Due to this, many bodybuilders and gym instructors often enjoy healthy snacks that are made from high quality animal-based proteins that include antibiotic free pork, grass fed beef jerky and meat sticks, and also organic, free range eggs.
Keep You Active, Energized, and Boost Immunity
Foods that are rich in protein release a chemical in the brain that makes us feel alert and energized. Meat contains a plethora of immunity boosting nutrients, minerals, and essential vitamins such as vitamin B6, vitamin D, vitamin E, selenium, phosphorus, zinc, potassium, heme iron, etc. The heme iron that is found in meat gets more easily absorbed and utilized by the body than iron that we get from plant sources. Meat also boosts immunity and the high iron content is specifically beneficial for adolescents as well as for young and pregnant women.
Maintain the Blood Sugar Level
The high protein and fat contents that are present in meat are highly beneficial for stabilizing blood sugar levels in the body. This is really helpful for people with type-2 diabetes as their blood sugar levels tend to drop in between meals.
Organic sources of meat are quite rich in omega-3 fatty acids. These are beneficial to brain health. According to a study, there is evidence that omega-3 fats have anti-inflammatory and antioxidant effects. This means they can promote healthier brain cells and avoid deterioration of the brain.
Meat is not as bad as most people believe it to be. On the contrary, it is a weight loss friendly food due to its high protein and low raw calorie content. To get the desired results, it is essential for you to identify the right type of meat that you consume. Lean meat and poultry are part of high protein diets and are the best healthy alternatives. These have been shown to promote long term and better weight loss when compared with other diets.
Enjoy the Best Quality and Healthy Snacks from Monty's Snacks
If you are in search of a wide range of top-quality and delicious snacks then you shouldn't look further than Monty's Snacks. Most snacks and jerky that you will find these days are filled with added sugars. However, this is not the case with us. We are proud to provide sugar free snacks. As our customer, you'll be able to buy healthy meat snacks that your body will totally love as much as you do. All our snacks are natural and we ensure a perfect combination between taste and health. This means you don't have to worry about what you put into your body. We don't use any sort of artificial flavors, preservatives, MSG, and nitrates, and are proud to use only natural spices and seasonings. Shop with us now and enjoy our snacks!