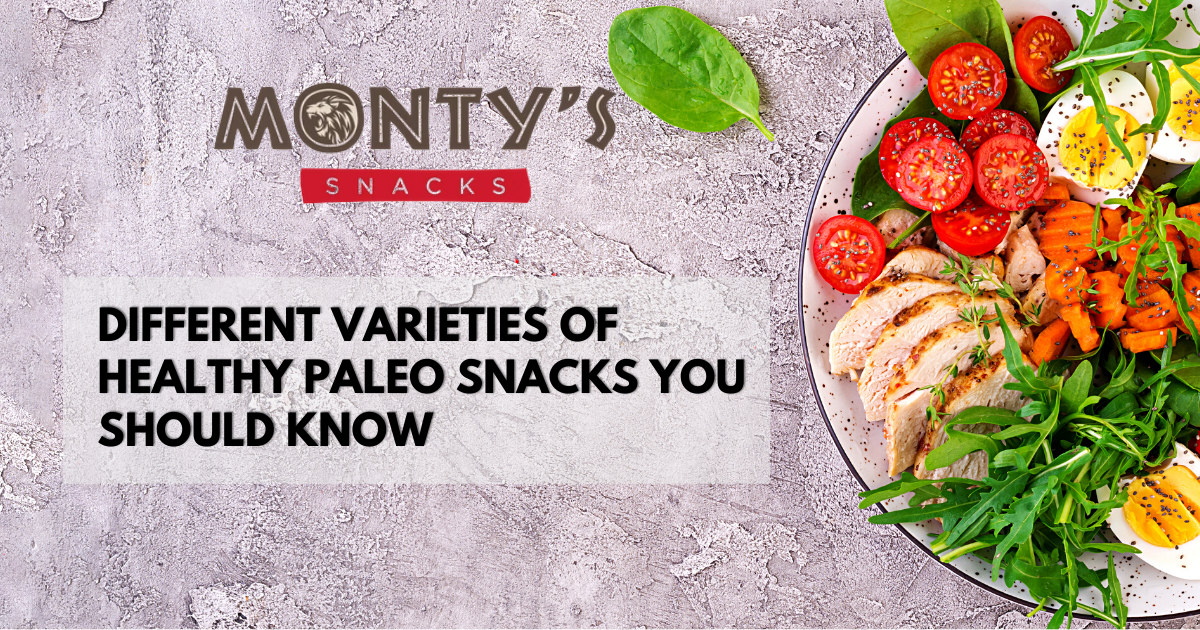 Different Varieties of Healthy Paleo Snacks You Should Know
The paleo diet has gained a lot of popularity among health enthusiasts from around the world. It excludes processed foods, artificial sweeteners, refined sugar, dairy products, grains, and legumes. The Paleo diet is a great way to imitate the way that our ancestors ate with a modern twist. As this diet excludes most of the popular snack foods, finding healthy paleo snacks can seem a bit difficult. 
So, if you are among those who are in search of the different varieties of healthy paleo snacks like sugar free Biltong then you have definitely come to the right place. To help you out, below we are going to highlight a few of the healthy paleo snack options. Let's get started!
Smoked and Ranch-Flavored Almonds
Almonds are a perfect snack for those following a paleo diet due to their high nutritive value and portability. However, nobody would like eating them in plain and roasted form. Along with having a diverse flavor profile, almonds include antioxidants and vitamins and can be paired with anything. You can further enhance their taste with a seasoning blend. For this, you can use the popular Mexican and Cajun mixes. Also, cinnamon is a popular choice if you like something on the sweeter side. The best part about almonds is that you can prepare your snack in a short time in the comfort of your kitchen.
Trail Mix
If you are someone who doesn't prefer nuts and seeds then you should definitely try your own trail mix. You can experiment with any of the options of nuts and seeds along with some dried fruit to create your delicious combination of salty and sweets. By using some carob chips, you can make it a traditional trail mix. You should avoid dry fruits that contain sugar. A few of the healthy dry fruits include pomegranate, goji berries, cherries, blueberries, strawberries, and blackberries. 
Pumpkin and Sunflower Seeds
Two other healthy Paleo snacks that you should consider are pumpkin and sunflower seeds. Also, known as "superseeds", there are several health-related benefits that they provide. They consist of essential nutrients like iron, fiber, and omega-3s. One of the best things about these superseeds is that you can carry them along with you to work as they're odorless and if they are pre-shelled then it's even better.
Seaweed Snacks
Seaweed snacks are another popular option for the Paleo diet if you are looking for an alternative for chips and crackers. These are a good source of vitamin K and low in calories making them perfect for snackers who are looking for guilt free options. Also, there are several flavors in which you can find seaweed snacks including Sweet N' Spicy if you can handle the spices.
Vegetable Chips
Similar to seaweed snacks, asparagus and kale chips are healthy Paleo snacks for filling the voids left by potato chips or crispy pretzels. Although these are not rich in nutrition like the actual vegetables they provide a great tasty option to get your greens.
Fresh Fruits and Vegetables
For those who are on a paleo diet, there are no better options than fresh fruits and vegetables. However, all the above snacks are more appetizing, nothing can match the benefits of eating fresh produce on a daily basis. A few examples of fruits that can be part of the paleo diet include apples, pears, and bananas.
Enjoy the Healthy Benefits of High Quality Biltong from Monty's Snacks
We at Monty's Snacks provide the best quality biltong. We use the
best beef for biltong
that is seasoned and marinated for providing a sensational tasty flavor. If you are in search of a paleo or keto snack then biltong is the best option for you. The biltong we provide is high in protein, gluten free, and with almost zero carbs per serving. Ensuring our customers are able to enjoy the great benefits of healthy and tasty snacks is what we at Monty's Snacks strive to achieve. Check out the wide range of top-quality biltong we offer and place your order with us. We will make sure our products are delivered quickly to you enabling you to enjoy the great benefits.