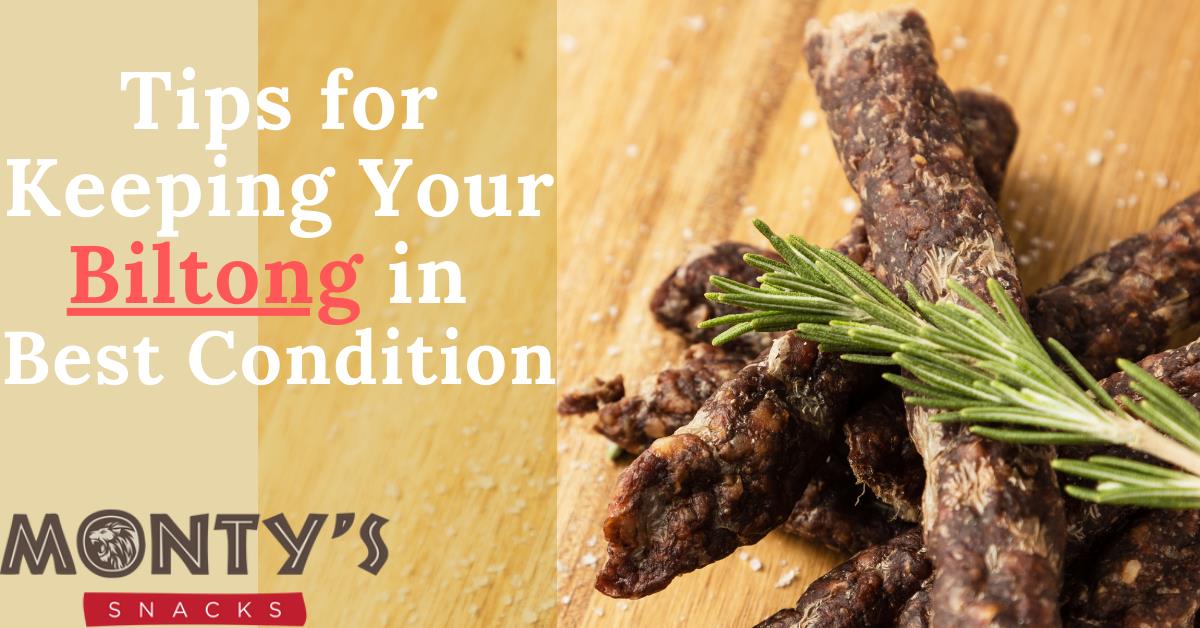 Top Tips for Keeping Your Biltong in Best Condition
Do you love biltong and are wondering how to keep it in top condition for the longest time? Then you have definitely come to the right place! Biltong is dried meat which means that storing it can be a hassle-free process. However, in order to get the best out of it, there are certain tips that you need to know. Follow them before you buy the best meat for Biltong. So, without further ado, let's get started!
Take Care of the Moisture
Firstly, it is always better to know how you like to enjoy your halal biltong. If you are someone who likes having it in a 'moist' style then you might not be able to keep it for long. Although the biltong will not go bad and become unfit for you to consume, it will start drying slowly with time and have an impact on the taste. To make sure your biltong is moist and perfect, the best storage option is by using a home vacuum sealer and then keeping it in the fridge.
Choose the Best Storage Options
For most typical styles of biltong, there are two main types of characteristics that you need to keep in mind for creating storage. These include cool and dry. When you keep the biltong dry any sort of mold issues can be avoided. Whereas, when the temperature is cool the risk of fat going rancid can be reduced. Also, keeping the biltong of UV light will protect the taste from getting degraded. You should store biltong in a dry, clean, and brown paper bag on the countertop. Paper is always a better choice than plastic as it can 'breathe'. However, if you want to store the biltong in a bowl, lining the bowl with a kitchen towel will prove beneficial. To keep the pests away, seal the bowl.
Regularly shaking or stirring your stored biltong after a few days, especially when it is moist, will keep it in the best condition. This will make sure the moisture doesn't pool and lead to the formation of nasties and also enables the biltong to breathe.
In order to keep the biltong for a longer time, getting it to vacuum sealed and placing it in the fridge will be helpful. For all those who want to store the biltong for more than a week then keeping it in the freezer is the way to go. The biltong can even be frozen for a year, however, it can have an impact on the texture. Defrosting it on a paper towel will ensure the biltong doesn't get wet.
Maintain High Levels of Hygiene
Washing your hands and utensils before you store your best beef for biltong will make it last longer. It will also prevent the possibility of it getting attacked by germs that might get into the bag.
In case you don't have a paper bag, you can store biltong for sale near me in a jar and keep a culinary cloth or paper towel over the jar's top with the help of an elastic band. Leaving the biltong on the shelf can seem like the easy way out. But on exposure to light, the taste of the biltong can deteriorate. Therefore, leaving it in a dark place like a cupboard.
Buy Top-Quality Biltong from Monty's Snacks
We are among the best when it comes to providing our valued customers with an opportunity to buy high quality sugar free Biltong and healthy paleo snacks. When you search for the best biltong shop near me, our name will be at the top of every list. There is no need for you to search for any other shop when you want to buy your favorite biltong and the best paleo snacks. All our snacks are available at an affordable price that you can buy on our website. So, what are you still waiting for? Visit our website today and place your order with us! You will have the best experience with our high quality snacks. We have received the best reviews and feedback from all our esteemed customers!